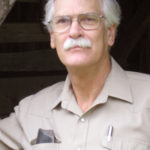 Did you know that Texas Germans produced an astounding body of literature in the 19th century that embraced all genres and which, if it were stacked up in a pile side by side, would exceed the amount produced in English?   In other words, a shadow Texas literature exists that has almost been entirely forgotten.
We are in for a special treat with Texas author James Kearney.  Kearney – a quintessential Texan – is the authority on the early Texas Germans.  He will talk about Die Lateiner am Possum Creek, a translation of  W.A. Trenckmann's Texas Civil War novel.   This is the only true Civil War Home Front novel in either language produced by a contemporary and, for this reason alone, has literary significance. It is a true window into the trials and hardships of the home front years and of the ethical dilemma faced by those who opposed the war but were forced by the conscription laws into military service.
Do join us for James Kearney's talk on Thursday, January 11, 2018, at 6:30 p.m. at L'Alliance Française, 427 Lovett Boulevard, Houston, TX  77006.  Registration begins at 6:15 p.m., our customary food and beverage reception at 6:30 p.m. and the program at 7:00 p.m.  Cost is $10 for members, $15 for nonmembers, and $5 for students.  Please let us know as soon as possible that you will attend at angelika@houstonleipzig.org.
James Kearney grew up on a historic Colorado County Ranch between Weimar and Columbus where he still makes his home.  He graduated from the University of Texas in 1969 with a dual major in History and German literature.  Afterwards he was drafted and served as a combat medic in Vietnam.  Subsequently he received his PhD from the Department of Germanic Studies at UT and taught German at Katy High School for a number of years.
He teaches an upper division course on European immigration to Texas in the 19th century at the University of Texas.  He is the author of four books:  Nassau Plantation: The Evolution of a Texas German Slave Plantation (University of North Texas Press, 2009);  Friedrichsburg: The Colony of the German Fürstenverein (University of Texas Press, 2011); Detlef Dunt's Travels to Texas in 1834 (UT Press), 2015; and No Hope for Heaven, No Fear of Hell: Private Justice in Colorado County (University of North Texas Press), 2016. Friedrichsburg received the Summerfield G. Roberts award for the best book on Texas history for the year 2012.
His particular interests are blues guitar, horses, Texas Germans, Texas feuds, barbecue, Texas Indians, rafting, canoeing.