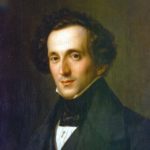 The Kathrine G. McGovern College of the Arts at the University of Houston is hosting A Moores to Mendelssohn Celebration, a FREE recital featuring students from the Hochschule fuer Musik und Theatre "Felix Mendelssohn Bartholdy," a Moores School of Music partner school in Leipzig, on Monday, October 2, 2017, in Dudley Recital Hall, Moores School of Music, University of Houston, at 7:30 p.m.

Soloists will be:  Sigrún Sævarsdóttir, soprano, and Eun Chong Park, piano.
The evening's program will include songs by Richard Strauss, William Walton and Icelandic composer Páll Ísólfsson.
Sigrún Björk Sævarsdóttir was born in Iceland and studied at the Reykjavik Academy of Singing and Vocal Arts with Ólöf Kolbrún Harðardóttir from 2009 to 2013, while simultaneously pursuing a bachelor's degree in Biomedical Engineering at the University of Reykjavík. She continued her vocal studies at the Hochschule für Musik und Theatre "Felix Mendelssohn Bartholdy" (HMT) in Leipzig, where she earned a master's degree (with honors) and where she is currently pursuing an artist's diploma. In January 2016, Sævarsdóttir was the Rotary Grant winner for up-and-coming musicians, and in 2017 she received a scholarship from the Richard-Wagner-Verband in Leipzig that allowed her to travel to Bayreuth and see the festival's operas. Sævarsdóttir has performed the roles of Barbarina in "Le nozze di Figaro" (Oper Halle), Alcina in "Spuk im Händelhaus" (a children's opera version of "Alcina") (Oper Halle), Saad and the Banjospielerin in "Scheherazade" (Oper Halle), one of the three genies in "Die Zauberflöte" (Oper Leipzig), Ännchen in Der Freischütz (HMT and Hofoper Jena) and Donna Anna in "Don Giovanni" (HMT and Hofoper Jena). Sævarsdóttir is also an active recitalist and oratorio soloist. Highlights include performances of C.H. Graun's "Christmas Oratorio," J.S. Bach's "Magnificat," "Dvořák's Stabat Mater" and "Mass in D Major," Szymanowsky's "Stabat Mater," Poulenc's "Stabat Mater" and Mozart's "Requiem." Future engagements include a soloist appearance at the Leipzig Gewandhaus and as the soprano soloist for a performance of Orff's "Carmina Burana."
Eun Chong Park was born in Dae Jeon, South Korea, and from 2010 to 2013 she pursued her bachelor's degree in piano performance at Chugye University under the guidance of Professor Yong Bae Kim and So Hee Yook. In 2014, she moved to Germany where she performed numerous concerts with various singers in Berlin. In the autumn of 2016, she began her master's degree in accompanying under the supervision of Professor Alexander Schmalcz at the Hochschule für Musik und Theatre "Felix Mendelssohn Bartholdy" in Leipzig. She is also studying vocal coaching there with Professor Helga Sippel and chamber music with Professor Caspar Frantz. In July 2017, she was the official accompanist for the International Saxon Academy of Singers.