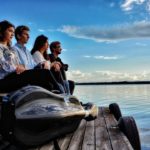 Come and hear the Gyldfeldt Quartet from the Leipzig Conservatory at the University of Music and Theatre Leipzig Felix Mendelssohn-Bartholdy on September 30, 2017, at 8:00 p.m. at Duncan Recital Hall, Shepherd School of Music, at Rice University.
The Gyldfeldt Quartet was founded by violinists August-Gyldfeldt Magnusson and Jonas Reinhold, violist Yağmur Erdoğan and cellist Anna Herrmann in the spring of 2016. All four members are currently studying at the University of Music and Theatre Leipzig "Felix Mendelssohn-Bartholdy".
They have been working most intensively on different works by Dmitri Shostakovich, Edvard Grieg, Ludwig van Beethoven and others. The Quartet studies with Professor Frank Reinecke (second violinst of the Vogler Quartet), Yves Sandoz (cellist of the Amaryllis Quartet) and Anne-Christin Schwarz.
Last December (2016) they won the second prize at the 19th Chamber Music Competition of the University of Music and Theatre Leipzig.
The quartet was invited to play three concerts in the area of Dalarna, Sweden, in July of this year.  Its members were invited to participate as scholars in the 62nd Jeunesses Musicales International Chamber Music Campus at Weikersheim Castle, where they worked with Günter Pichler (prev. Alban Berg Quartett), Dirk Mommertz (Fauré Quartett) and the Vogler Quartett.
They performed at the Festspiele Mecklenburg-Vorpommern and the Musiksommer am Zuerichsee (Feusisberg/Schwyz) in August 2017, together with the singers Olena Tokar and Samuel Hasselhorn and the pianist Igor Gryshyn.