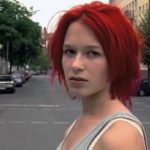 It's movie night at Houston-Leipzig.  Do join us for Lola Rennt! – Run Lola Run on Thursday, August 24, 2017, at 6:30 p.m. at L'Alliance Française, 427 Lovett Boulevard, Houston, TX  77006 (please note parking restrictions below).  The film is in German and has English subtitles.
Have you ever had a particularly calamitous or unfortunate day?  Did you think, well, that could have gone better, or if only this or that hadn't happened, it would have been a good day?  Let me introduce you to Lola.  She has to pick up her boyfriend, but can't because her moped was stolen; because she couldn't pick up her boyfriend in time, he did something downright dumb, now is dazed.  She has 20 minutes to meet him and deliver to him DM 100,000 – which she does not have – or he will die.  What to do? Who will die?  It looks like her day has no way to go but down until she sprints into action and runs for his life, for her life, and for a great solution to their dilemma.
Lola Rennt entered the American mainstream consciousness when The Simpsons spoofed the movie in Lisa Runs.
Nominated for 41 awards, Lola Rennt won 28, one of them as Best Film Not in the English Language by the British Academy of Film and Television Arts.
"[Director] Tom Tykwer cranks up the volume, stiffens the pace, and jettisons us on one of . . . [the] most exhilarating cinematic adventures.  A breathtaking race against the clock, Lola Rennt straps Tykwers' playfully hip sensibilities to a fun-filled mix of romance, thrills, and action as his tireless heroine pounds the pavement and racks her brain to save her lover from danger.
"A sure-fire hit with audiences, Run Lola Run brings to the screen two actors of immeasurable charisma: Franka Potente as the heroic, flame-haired Lola, and Moritz Bleibtreu as her doltish but devoted lover. Scoring his delirious staccato mix of animation, still photographs, and live action to a pounding techno beat, Tykwer reveals himself a virtuoso of the medium and, at the same time, a passionate believer in destiny and the transcendent power of love."
Check-in begins at 6:15 p.m. and the food and beverage reception starts at 6:30 p.m. The meeting and movie will start at 7:00 p.m.  The fee of $10.00 for Houston-Leipzig members, of $15.00 for guests, and of $5.00 for students, contributes to the costs for our meetings.  Please RSVP as soon as possible to angelika@houstonleipzig.org.
Parking is limited on Lovett Boulevard – please observe all the parking restrictions.  Do not park across the street from L'Alliance Française (Lovett Boulevard between Whitney and Taft Streets).  If you park there after 6:00 p.m. you will first receive an expensive ticket, and shortly thereafter, your car will be towed.  There is plenty of parking on the side streets.