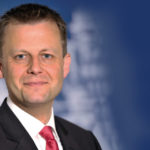 We have an extra-special program for you at our next meeting on Thursday, May 11, 2017, at 6:30 p.m. in the Parish Hall of Christ the King Lutheran Church, 2353 Rice Boulevard, Houston, TX  77005:  one of Leipzig's Buergermeisters is in town, and with his teenage daughter Annalena we'll have a double header!  Since we need to place our food orders early, PLEASE RSVP NOW to angelika@houstonleipzig.or
Torsten Bonew, Finanzbuergermeister (Treasurer) of the City of Leipzig, will present the latest information and developments about and in Leipzig with a few slides and a short movie.  We have the opportunity to ask him about issues in Leipzig, Germany, and Europe that are of great interest to all of us at this time
At the same time, his daughter Annalena just spent a year in the Greater Houston area as a high school exchange student.  She did an exchange of one month as a test, and after her return to Leipzig, decided to spend a whole school year in Texas.  She organized most of the exchange herself, and had some unusual and unexpected experiences.  Annalena will share with us what she learned, the positive and the negative.  This will be a most interesting view of our society from the viewpoint of another generation.
Bring a friend, bring your high schoolers, bring your teenagers – it promises to be a highly interesting evening!
Our customary food and beverage reception starts at 6:30 p.m. Registration will begin at 6:15 p.m., the presentation at 7:00 p.m. Meeting fees are $10 for members, $5 for students, and $15 for nonmembers.  Ample parking is available on the Rice University parking lot off Greenbriar Street, credit cards only.