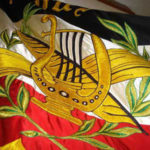 The Houston Saengerbund presents the eight Finalists of its Second Annual German Singing Competition in concert on Saturday, January 21, 2017, at 7:30 p.m. in the sanctuary of First Evangelical Lutheran Church, 1311 Holman in Houston, Texas.  Tickets are $10, $5 for students.
The Finalists were selected from 82 entrants.  Three judges will select the winners:  Diane Zola, Casting Director of the Houston Grand Opera, Rick Erickson, Director of the Bach Society of Houston, and Alex Rosen, composer and Artist in Residence at the Julliard School in New York City. The Saengerbund will present $7,500.00 in prize money to the winners.
The first place winner of last year's German Singing Competition, Thomas Glass, is now performing with the Minnesota Opera.
Each of the finalists will perform two selections sung in German. At the end of the concert, the winners will be announced by Mary Kay Buehler, Director of Music for the Saengerbund and Organizer of the Competition. There will be a reception after the concert in the Beutel Room at First Evangelical Lutheran Church.
The Houston Saengerbund is the oldest active musical organization in the City of Houston. German immigrants founded the organization in the 19th century, and formally incorporated it in 1883. The Saengerbund's mission is to promote the performance of vocal music in the German language.