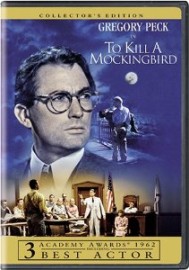 Did You Know . . . ?
. . . that To Kill A Mockingbird, the Pulitzer Price winning novel, has sold more than 30 million copies worldwide and has been translated into 50 languages;
. . . that Gregory Peck's portrayal of Atticus Finch in Mockingbird earned him an Oscar and a Golden Globe, and that the American Film Institute in 2007 named Atticus Finch "the greatest American hero," and Entertainment Weekly placed Finch on their list of "the 20 All Time Coolest Heroes in Pop Culture";
. . . that Horton Foote ( important American playwright and screenwriter) so famously recreated and preserved the Southern voice and mood of the author that he received an Oscar for the screenplay;
. . . that Mockingbird received eight Oscar nominations and won three for its contributors;
. . . that the author Harper Lee never wrote another book after Mockingbird;
. . . that Harper Lee received an honorary doctorate from the University of Nôtre Dame, a Presidential Medal of Freedom in 2007 from President Bush, and a National Medal of Arts in 2010;
. . . that in 2006 British librarians ranked Mockingbird ahead of the Bible as a book "every adult should read before they die";
. . . that the author Harper Lee and Truman Capote (of In Cold Blood fame) were neighbors in their childhood, and that the child Dill in the movie is modeled after him; and
. . . that famous actor-writer-director Robert Duval had his first major movie role in Mockingbird as Arthur "Boo" Radley, the mentally disabled neighbor that inflames the children's fantasy?
We cordially invite you to join us for our Houston-Leipzig at the Movies summer series on Thursday, July 17, 2014, at 6:30 p.m. in the Parish Hall of Christ the King Lutheran Church, when we will show To Kill a Mockingbird, one of the most favorite movies of all times.
Please respond now to angelika@houstonleipzig.org – we'll have plenty of food and drink and a great time!
Registration will begin at 6:15 p.m., the movie at 7:00 p.m. Meeting fees are $10 for members, $ 5 for students, and $15 for nonmembers, regardless of whether you participate in the reception. Ample parking is available on the Rice University parking lot off Greenbriar for $1, credit cards only.
Bring a neighbor, bring a friend and let's enjoy an American classic, a thriller . . . a fabulous movie!
See you on Thursday,
Angelika Schmidt-Lange
Board Member and Website Administrator
Houston-Leipzig Sister City Association
713-822-4257