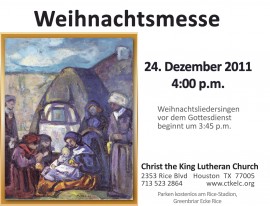 Christmas is the one holiday that unites all Christians, active and inactive.  It brings back childhood memories, and if you grew up in Germany, you will think of Sankt Nikolaus, who came during the night from December 5 to December 6 to bring you nuts and apples and an orange or two, or maybe switches or, depending on the region, a lump of coal if you were naughty, as a warning that Santa Claus was watching.  You remember the advent wreath with an additional candle lit each of the four Sundays before Christmas Eve, and small family gatherings those four Sundays.  In the later weeks of December, the house would smell of vanilla and cinnamon and cookies being baked.  On Christmas Eve day, if you were lucky enough to have snow, maybe your grandfather pulled you on a sleigh into the countryside, while your parents decked out the Christmas tree, and when you returned, the door to the living room was locked; trying to catch a peek through the keyhole, maybe you saw some glitter of lametta or tinsel reflected in the dark, or you heard whispers or faint bells ringing.  If you grew up in the countryside in Bavaria, you would gather in the village church in the late afternoon with the choir and brass choir "to await the Christchild," "das Christkindl" that would bring you presents.  In other parts of Germany you would anxiously await the appearance of the Weihnachtsmann, who would be Sankt Nikolas making a return appearance in person, and  you would be looking for your grandfather to share the moment with you, but he would have gone off somewhere.  And then he returned after all was over, and as you got older, you realized that the Weihnachtsmann wore the same shoes as your grandpa?!  Everyone has childhood memories of Christmases past, and those memories are all expressed in Stille Nacht, Heilige Nacht.  Come and enjoy eine Weihnachtsmesse, and sing with us the Christmas carols that you've missed all of these years, and listen to the Christmas message that rings afresh with hope and redemption for all.
You are most cordially invited to the Weihnachtsmesse on December 24, 2011, at Christ the King Lutheran Church, 2353 Rice Boulevard, Houston, TX  77005.  Doors open at 3:15 p.m., singing of Christmas carols begins at 3:45 p.m. , the service starts at 4:00 p.m.  Parking is available on Rice stadium, entrance on Greenbriar opposite the church.   All are welcome – please bring  your family and friends.
Pastors Robert Moore and Karin Liebster wish a blessed holiday and a happy New Year to all.
www.ctkelc.org
713-523-2864