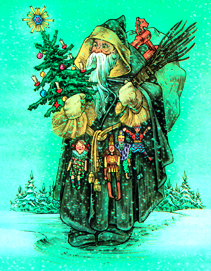 The darkest time of the year casts a powerful spell over nearly every culture in the northern hemisphere and has given birth to countless ways of celebrating the winter solstice. Many of the present-day holiday rituals in this country originate in the Nordic/German traditions and come flavored with the spices of Europe. Join us on a journey to early 19th century Bavaria and the surrounding regions at Yuletide to explore the roots of modern Christmas with music ranging from inspiring chorales to hearty sing-alongs, dance, storytelling, and the blessings of children and laughter.
Revels Houston is a community-based performing arts organization committed to the preservation of multicultural traditions through family-oriented seasonal productions, celebrations and educational outreach programs.  Professional singers, dancers, musicians and community members young and old join together to form the cast and chorus of Revels Houston's productions. Each year, a different culture is the focus of the December production, The Christmas Revels. They are truly multicultural – in both the content of their  production as well as the diversity of their performers.
While each Christmas Revels production is focused on the music and traditions of a different culture, there are certain Revels traditions that are part of each Revels performance. The Morris dances and a Mummers play are always included, and the first act of every performance ends with the cast and the audience joyously dancing their way out of the theater to The Lord of the Dance.
There will be six performances of Christmas Revels this year:  Saturday, December 10 at 2:30 p.m. and 7:00 p.m., Sunday, December 11 at 2;30 p.m., Saturday, December 17 at 2:30 p.m. and 7:00 p.m., and Sunday, December 18 at 2:30 p.m.  All performances will take place on the University of Houston Main Campus at the Wortham Theater in the Cynthia Woods Mitchel Center for the Arts, Entrance 16, Building 507, Houston, TX 77004.
To buy tickets, please click here.  For more information, check out the Revels website.